Insulating Concrete Forms, ICFs for short, offer an amazing array of features and benefits for residential and commercial construction. They offer so many advantages it is impossible to fully describe all of them here.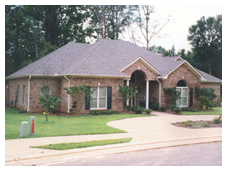 ICF buildings are easy to construct, low maintenance, quiet, beautiful, and cost effective . They also offer unlimited design flexibility, excellent fire and storm protection, and outstanding energy efficiency.
Take a look at the important features and benefits of ICF homes and buildings.
Some of the reasons to use ICF technology include:
Beauty and Design Flexibility – ICF structures are beautiful and can be built in any architectural style. They can be built with any interior and exterior finish you desire.
Energy Efficiency – You can significantly reduce heating and cooling costs compared to conventional homes.
Significantly Increased Storm Protection – Reinforced concrete walls help protect your family from the high winds and flying debris during tornados and hurricanes.
Low Maintenance – Wood rot and termite infestations, two primary reasons for inconvenient and costly repairs, are not factors in ICF construction.
Greater Fire Resistance – ICFs help prevent the spread of flames inside and offer more protection from fires outside the home.
Peace and Quiet – The solid walls of a concrete home can significantly reduce outside noise from neighbors and traffic.
Improved Air Quality – The solid walls of a concrete home help keep irritating dust and pollen particles out of the indoor environment.
Environmentally Friendly – ICF construction uses inert, non-toxic materials produced from abundant natural resources that are locally available and recycled materials.
Visit the ICF gallery to see how they are built and what possibilities exist when you build with concrete. See some of the latest commercial and residential projects and take a look at the construction process.
To see more information about how concrete and ICFs are helping to save the planet, visit the Cool Communities section of the site.