Beautiful colors. Interesting textures. Unusual shapes. Eye-catching patterns. The possibilities with today's concrete are almost limitless. Modern manufacturing and finishing techniques have made concrete a versatile performer in residential and commercial applications.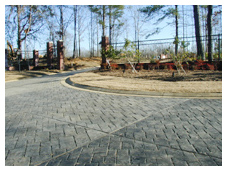 Scored, stamped, and stained concrete allows architects and design professionals to put new emphasis on both outdoor and indoor spaces, turning ordinary elements into showpieces. It brings all the features of a structure together like no other material can. And it can do it for a lifetime and at a fraction of the cost of other materials.
The visual appeal of this product is something that more and more home and building owners are demanding be included in projects. It is a smart choice for its affordability, durability, and flexibility.
Examine the many faces of decorative concrete options available to you.
Find out why decorative concrete is such an excellent value.
Visit the decorative concrete gallery to see more examples of what you can do with concrete and what it can do for you.