America first Portland Cement Concrete (PCC) pavement was built in the town square of Bellefontaine, Ohio, in 1891. It used a two-course construction with hard aggregate on top so horseshoes wouldn't wear away the pavement and it was grooved in four-inch squares so horses would not slip.
That a far cry from today modern superhighways: some of them twelve-lane beasts carrying tandem-trailer rigs weighing thousands of pounds.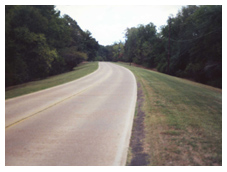 Why Is Concrete A Better Pavement?
People who know use concrete. Concrete is the only choice for dependable, durable, long-lasting, cost-effective pavements. It used in streets, local roads, highways, freight and cargo facilities, and airports.
PCC Pavement products and processes offer long-term, performance-based investment strategies to highway and roadway officials, decision makers and users. Many state DOTs believe that two-pavement material alternatives helps keep project costs down.
Concrete has real advantages over asphalt
One mission of the concrete industry is providing a smooth, safe, economic and efficient road systems. Our product can do what no other can and offer features and benefits unmatched by any other alternative.
Concrete pavements offer:
Durability
Safety
Skid resistance
Drainage
Overall quality
Low long-term maintenance
Overall better lifetime value
Follow The Concrete Road
Concrete is used on all kinds of streets and roads. It is appropriate for almost any type of application.
Light Residential
Residential
Collector
Business
Industrial
Arterial
Types Of Concrete Pavement
Jointed Plain
Jointed Reinforced
Continuously Reinforced
Post-Tensioned
With all the features and benefits concrete offers as a paving solution, why would you want to use anything else?
Get to know the types of roads concrete is found on and how they're built.
Get the hard fact on the value of concrete pavements.
Visit the concrete pavement gallery.