Having problems with deteriorating and rutted asphalt parking lots, streets, or highways? Don't put another asphalt band-aid on top! Concrete whitetopping is a long-term solution.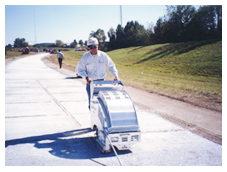 What Is Whitetopping?
It's a method of paving that uses concrete to construct a safe, long lasting surface on top of an asphalt base. It offers numerous advantages over other materials used to resurface worn asphalt pavements that are unsightly and unsafe. Whitetopping can be constructed as either an overlay on top of the existing asphalt surface or as an inlay by removing portions of the top layers of asphalt and filling the area with concrete.
Why Does Whitetopping Always Comes Out On Top?
Whitetopping is far and away the best solution for rehabbing deteriorated asphalt pavement and making them last for a lifetime. Discover all the whitetopping features and benefits that will convince you concrete is the only answer for you.
Competitive cost
Greater load capacity
No rutting
Significantly fewer repairs
Little or no pre-overlay repair needed.
Avoid reconstruction problems.

Minimal rain delays.
Maintain traffic on existing surface.

Long-term advantages

Low maintenance
No seasonal weakening (spring breakup)
No reflective cracking
Safe riding surface

Structural Advantages

Improved structural capacity
Maintains high level of serviceability
Reacts structurally as if on strong base course
Concrete slabs address problems asphalt cannot
Reduced potential for pumping, faulting, and loss of support
Thick or Thin, Whitetopping Wins
Whitetopping is characterized as either conventional or ultra-thin by its thickness. You may want additional details on thickness and what they mean to projects.
Conventional Whitetopping – This well-established product has proven itself as a durable rehabilitation technique.Whitetopping is referred to as conventional whitetopping- if it's thickness exceeds 4 inches. It is structurally designed as a rigid pavement with an asphalt base and significantly improves the structural capacity of the pavement.
Ultra-Thin Whitetopping This is a relatively new technology that uses a thin layer of concrete over a prepared asphalt surface. Ultra-thin whitetopping thickness ranges between 2 and 4 inches.This technique uses the existing asphalt for the pavement structure and bonding between the two pavement types is essential to form a true composite pavement. It is not designed to bridge problem areas in the asphalt base or subgrade, but to provide a superior ride surface.This technology has gained widespread acceptance among state DOTs as a cost effective way to repair asphalt intersections.
Find out why whitetopping should be your choice the next time you need to repair damaged pavement in a parking area, on a street, or at intersections. The features and benefits of whitetopping make it the obvious winner in rehab situations.
Look at the differences between conventional and ultrathin whitetopping and find out when to use which one.
See the whitetopping gallery.
Get whitetopping downloads from the American Concrete Pavement Association.
Concrete pavements like whitetopping are an integral part of Cool Communities, a federal program aimed at reducing the urban heat island effect.